March 12th, 2018 &nbsp
decode
&nbsp
Android 7.1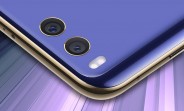 The Xiaomi Mi 7 (aka Dipper) is still roaming the wild benchmark fields – the latest sighting provides us with a Geekbench 4.1 score from the Snapdragon 845-powered phone.
The unit had 6GB of RAM while a previous leak showed 8GB, which suggests there will be two memory tiers (the Mi 6 was available with 4GB and 6GB RAM).
Both the single and multi-core scores are in line with what we've seen of Snapdragon 845 chipsets. A strong showing from what is rumored to be a $475 phone (which will put in direct competition with the Zenfone 5z).
JRGRAPH_EXPANDABLE_VERSION = false;…