February 9th, 2018 &nbsp
decode
&nbsp
Android 7.1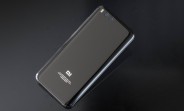 Xiaomi said back in December that the Mi 7 will arrive at MWC 2018 with a Snapdragon 845, but according to some rumors, the company is postponing the announcement and bringing the Mi Mix 2s instead.
Still, a leaked screenshot of the Mi 7, said to debut in April, suggests 8 GB RAM and 4,480 mAh battery, a massive upgrade over the Mi 6's 4/6 GB RAM and 3,350 mAh power cell.
Other specs reveal the already known Snapdragon 845, a dual camera setup (16 MP + 16 MP) and 5.6″ tall screen with FullHD+ resolution. The storage is listed as 128 GB.
The screenshot says that the user interface…