November 23rd, 2017 &nbsp
decode
&nbsp
Android 7.1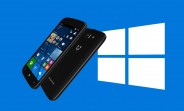 Have you seen 28 Days Later? In the opening scene the main character wakes up to find the city abandoned with no living soul in sight. We only bring it up because Amazon put up the Wileyfox Pro on pre-order, a Windows 10 phone. Aside from a few tottering zombies, Windows on phones is dead.
Wileyfox Pro runs Windows, wants to be a business phone
Not to be discouraged, the British phone maker armed the Pro with a 5″ 720p screen, a quad-core processor and an 8MP camera. Memory-wise, the phone gets 2GB of RAM and 16GB storage. Not bad for… wait, £190?
Okay, okay, the…