November 12th, 2017 &nbsp
decode
&nbsp
Android 7.1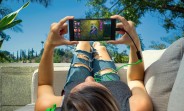 Here's some good news for the fledgling smartphone maker – the people love the Razer Phone. People were surprisingly excited about the audio features of the phone – like the stereo speakers with Dolby Atmos – even though one would think it's the 120Hz screen that's the star of the show.
The lack of a 3.5mm headphone jack was a common complaint, but the THX-certified audio dongle goes a long way. Plus HTC, Motorola, Google and Huawei also skipped the analog jack.
The 120Hz screen did get some love too, though most commenters don't consider the Razer a purely gaming phone (and we agree)….