July 9th, 2017 &nbsp
decode
&nbsp
news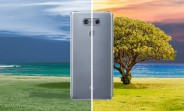 Dual cameras are all the rage these days, but manufacturers have several different takes on what those should be used for. Last week we asked you to pick your favorite style and now it's time to count the votes.
A monochrome secondary camera to boost low-light photography ended up as the most popular choice, getting 33% of the votes.
LG's take – wide-angle camera that lets you fit more in the frame ended up a very close second, while the telephoto cameras adopted by Apple, OnePlus, Oppo and Xiaomi only got 19% approval.
Finally, 15% of you only needed a secondary camera for the faux…