April 2nd, 2017 &nbsp
decode
&nbsp
news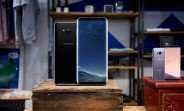 The Samsung Galaxy S8 and Galaxy S8+ are official and stores and carriers are already accepting pre-orders. Are you one of the early adopters?
There are some perks to pre-ordering – you'll get one of the first units available and bundled alongside will be the new Gear VR headset with motion controller.
Still, it may be prudent to wait for the first reviews to come out, the Galaxy S8 duo will not ship out until late April so there is plenty of time to think and still grab that free headset.
Others may want to wait even longer – especially those who think the S8 is too expensive. In a…