April 23rd, 2017 &nbsp
decode
&nbsp
news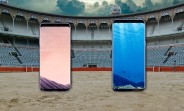 The Samsung Galaxy S8 was deemed a bit pricey but nevertheless many pre-ordered it and it narrowly missed the title Best flagship of Spring 2017.
Now here's another question – do you want the smaller S8 or the bigger Galaxy S8+?
Of course those dimensions are relative, the S8 is narrower than the S7, even though it has a "5.8-inch screen". We put that in quotes since the 18.5:9 aspect ratio means the screens of those two phones are not directly comparable by their diagonal. Still, the S8 is more compact than the plus model and it costs less too – two good reasons to pick it.
However,…