October 29th, 2017 &nbsp
decode
&nbsp
news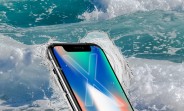 You can now pre-order an iPhone X – but will you? It's the first-ever iPhone with an AMOLED screen and the first to drop the Home button.
This also makes it the first to feature advanced facial recognition – via its TrueDepth camera – and the first to shave down the bezels to a point where even most Androids will get a little jealous.
Despite some solid upgrades – like the first mobile 4K video capture, first 1080p too – the iPhone 8 and 8 Plus felt a little underwhelming. Not much has changed, their design barely differ from 2014's iPhone 6.
With the iPhone X Apple…