June 25th, 2017 &nbsp
decode
&nbsp
news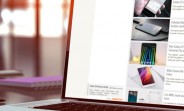 The OnePlus 5 hype finally reached its peak this week as the handset got its official debut. It's no surprise then that it completely dominated the headlines over the past few days.
LG also had an announcement this week, introducing the G6+ – a wireless charging-enabled version of its flagship with extra storage.
A pair of upcoming Samsung phablets also gathered interest – the refurbished Galaxy Note7 and the flagship Galaxy Note8 are drawing near and rumors are understandably intensifying.
.news-item .n-left {
float: left;
width: 28%;
text-align: center;
}
.news-item…