April 23rd, 2017 &nbsp
decode
&nbsp
news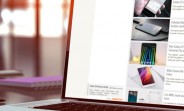 One phone took most of the spotlight this week – the Xiaomi Mi 6 was finally unveiled. The device comes in 11 sweet colors, has a dual camera and the latest chipset Snapdragon 835. Qualcomm's SoC also starred in another popular article – the benchmark comparison of Galaxy S8+ versions.
Other manufacturers also made headlines – ZTE unveiled Axon 7s, while HTC tested its upcoming U flagship.
Scroll down for the full list of the most interesting and trending articles in the past week.
.news-item .n-left {
float: left;
width: 28%;
text-align: center;
}
.news-item .n-right…