April 2nd, 2017 &nbsp
decode
&nbsp
news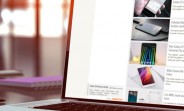 Week 13 was one of the most anticipated thanks to the announcement of the Samsung Galaxy S8 and Samsung Galaxy S8+.
It was the most important event since the MWC and understandably got plenty of attention. Well, the Galaxy S8 duo is now official so we finally get the complete picture (not that leaks left much unknowns).
Meanwhile Moto X (2017) was leaked, and Nokia 6's teardown suggested HMD may be able to deliver the build quality that we expect from the Nokia brand.
.news-item .n-left {
float: left;
width: 28%;
text-align: center;
}
.news-item .n-right…