June 20th, 2017 &nbsp
decode
&nbsp
news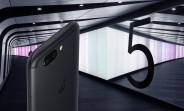 The hype has been building up for months and the floodgates are finally about to open – you can watch it happen live right here. "It" being the unveiling of the OnePlus 5, of course!
There have been plenty of official teasers and unofficial leaks, we've summarized them here. Or if you prefer, you can watch the stream spoiler-free. Your choice!
We'll be back with more on the OnePlus 5 as soon as the info arrives.