November 16th, 2017 &nbsp
decode
&nbsp
news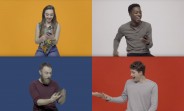 React videos are still a thing, right? Either way, check out a group of people react to the OnePlus 5T. Don't go in hoping to spot the phone, it's been pixelated. The focus here is on the (supposedly) genuine reactions of people upon first laying eyes on the 5T.
If you didn't buy tickets for the event, at least you can attend the event virtually. We'll post the livestream when it goes live. Of course, our initial impressions of the OnePlus 5T will follow soon.
P.S. Do we even have to point it out? YouTube recommends tons of unboxing videos that were published too early.