April 16th, 2018 &nbsp
decode
&nbsp
Android 7.1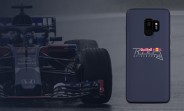 Red Bull Racing had a pretty good weekend – its driver Daniel Ricciardo was minutes away from missing the qualification, but his mechanics came through and the Honey badger took home a win. Great time to launch the Galaxy S9 and Galaxy S9+ Red Bull Ring limited edition.
The bundle includes a branded box and a special Red Bull Ring case (named after the Austrian Grand Prix track).
The limited edition phones are available on Vodafone Netherlands starting today and lasting until April 27 (next Friday).
The Galaxy S9+ will cost you €30.69 down and €55 a month for 6 GB of data and…