July 13th, 2017 &nbsp
decode
&nbsp
news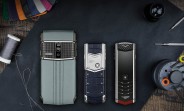 Vertu will be forced to liquidate its UK-based manufacturing arm after the luxury phone maker has failed to cover its £128m deficit, of which Vertu owner Murat Hakan Uzan intended to pay £1.9m.
The liquidation will result in some 200 people losing their jobs and seems to spell the inevitable doom of Vertu as a whole.
Turkish owner Uzan reportedly plans to rescue Vertu, though it seems unlikely that the maker can be successful again using its old strategy of building outdated phones with quality materials such as ostrich leather and jewels.
Vertu was founded in 1998 and has…