March 23rd, 2017 &nbsp
decode
&nbsp
news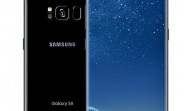 Another day, another Galaxy S8 image. Honestly, it's hard keeping track with the endless stream of renders and photos of the upcoming flagship pair. Yes, we've all seen the new curvy shape and pondered on the size difference between the S8 and S8+.
Galaxy-branded (U.S. model) pic.twitter.com/dnGhK5lLCz— Evan Blass () March 23, 2017
This latest image depicts a US model. We can clearly see the "Galaxy S8" text on the back, which can only mean Samsung plans on sticking to its current flagship branding scheme in the States.
If we assume this is an indication that the Galaxy S7…