April 6th, 2017 &nbsp
decode
&nbsp
news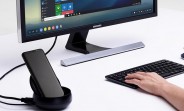 Samsung decided to take another attempt at delivering a smartphone-powered desktop experience with this year's Galaxy S8 pair. In case you missed it, we are talking about the DeX Station – the company's new phone dock. Retailer Clove listed the powerful accessory on its site today, for GBP 129.99.
This mostly falls in line with the $149.99 pre-orders are currently going for in the US. As for availability, Clover is keeping quiet and we only have the vague US April timeframe to go on.
Just as a quick reminder, the DeX station is compatible with both the Galaxy S8 and S8+….