February 11th, 2018 &nbsp
decode
&nbsp
Android 7.1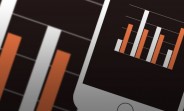 People are already excited about the new announcements of the 2018 and you don't need to look any further than our top 10 trending phones chart to know it. We've got three phones that are yet to be announced on the list, two of which are on the podium.
The Xiaomi Redmi Note 5 is at the very top, extending its streak to five weeks, while the Xioami Mi A1 gets second for the fourth week in a row.
In third we have the Samsung Galaxy S9 – the upcoming Korean flagship rising up two more spots since last week.
That left Samsung Galaxy J7 Pro off the rostrum in fourth, just ahead of the…