February 27th, 2018 &nbsp
decode
&nbsp
Android 7.1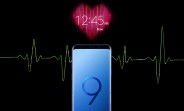 When we read Samsung's patent about measuring blood pressure with an optical sensor, we imagined it will be used on smartwatches in the future. So imagine our surprise to find out that the Galaxy S9 and S9+ have just such a sensor.
Besides blood pressure, the phone can measure your stress levels as well. Samsung also plans to expand Bixbi's skills to allow it to judge the calories of a meal just by looking at it through the camera.
This tech was co-developed with the University of California San Francisco in a collaboration dubbed My BP Lab.
Users can opt into a three-week UCFS…