October 23rd, 2017 &nbsp
decode
&nbsp
Android 7.1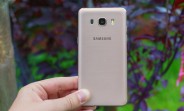 Samsung is rolling out the Android 7.1.1 update to the Galaxy J5 (2016) in Poland and possibly elsewhere in Europe, as expected.
In addition to what Android 7.1.1 brings on its own, Samsung has included its latest Experience 8.5 into the firmware, bringing the Galaxy J5 (2016) to Galaxy Note8 levels of software functionality (minus hardware-specific features, of course).
Experience 8.5 is much faster than Experience 8.1 which is built on Android 7.0 that premiered on the Galaxy S8.
If you own a Samsung Galaxy J5 (2016) and haven't seen a prompt for an update you can check…