October 21st, 2018 &nbsp
decode
&nbsp
news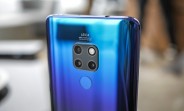 I waited for a few days to pass before putting this together to make sure all the things Huawei announced have properly sank in and here are my thoughts on them and what they mean for the smartphone market going into the most important quarter of the year.
The good
Huawei is all grown up now
This is undoubtedly Huawei's strongest flagship lineup since the company entered the smartphone game. The Mate 20 Pro is not relying on undercutting the competition's price – it's actually trying to beat them at innovation and user experience.
Compared to the Samsung Galaxy Note9 it…