June 20th, 2017 &nbsp
decode
&nbsp
news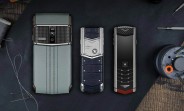 Vertu and TCL have signed a deal for manufacturing a new line of phones. All 30,000 units will be handcrafted in the UK, with a price starting at £7,500 a piece.
This is the first deal Vertu strikes after a change in ownership back in March. A Turkish millionaire named Hakan Uzan bought the company from Godin Holdings, and said he wants to help Vertu reach its full potential.
Now, according to sources, Uzan shared his excitement of working with TCL Communication and "hopes this will be the start of a prosperous new chapter in our relationship.
TCL Communication is a company known…