June 27th, 2017 &nbsp
decode
&nbsp
news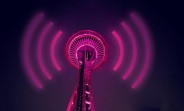 T-Mobile USA has started rolling out LTE-U in select locations (see below) to improve capacity and speed. In addition to that, T-Mobile became the first US carrier to test the related LAA technology.
It demonstrated a 741Mbps download over 80MHz of aggregated spectrum in the 5GHz band. If you're worried about your 5GHz Wi-Fi, LAA is designed to play nice with existing wireless tech on the same band by following the "listen-before-talk" protocol.
Back to LTE-U. It is available in Brookly, Las Vegas, Bellevue, Richardson and Simi Valley. More locations will be developed later this year….