March 18th, 2018 &nbsp
decode
&nbsp
Android 7.1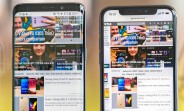 Ivan: The notch gives character.
When the Apple iPhone X came out in the Fall of last year we were split on "The Notch" and the controversy hasn't stopped ever since.
I'm pretty sure most people (along with my colleague at the opposite end of this argument) find the notch ugly and pointless. But I find it kind of attractive, weird as that may sound to most people.
It gives the iPhone X a character of its own, a face even. It's an iconic design already, much like the round home button was.
I've subsequently bought an iPhone X and I've not once found the notch a hindrance….