January 2nd, 2018 &nbsp
decode
&nbsp
news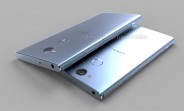 brought presents for all Xperia fans, especially those looking to spend a small to moderate sum – we're talking about renders of Sony's Xperia XA and L series.
According to CAD schematics, the Sony Xperia XA2 Ultra will be a couple of millimeters shorter compared to its predecessor and measure 162.5 x 80.0 x 9.5mm.
Among other things, this means that Sony is sticking to the classic 16:9 ratio for this 6-incher. From the previous leak, we know we're looking at a 1080p screen, powered by a Snapdragon 630 chipset with 4GB/64GB memory.
Sony Xperia XA2 and XA2…