January 8th, 2018 &nbsp
decode
&nbsp
Android 7.1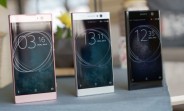 It's Xperia day today as Sony goes official with three new phones at the CES 2018 in Las Vegas. Two sizes of mid-tier handsets, the Xperia XA2 and Xperia XA2 Ultra, and the entry-level Xperia L2 usher in a new design language and a focus on endurance.
Sony Xperia XA2 and Xperia XA2 ultra
The Xperia XA2 and XA2 Ultra come with a Snapdragon 630 chipset in charge of doing the math, replacing the Mediatek Helio P20 of last year's models – 14nm vs. 16nm silicon.
Sony Xperia XA2 Ultra
The XA2 features a 3,300mAh battery instead of the XA1's smallish 2,300mAh unit, while the…