June 11th, 2017 &nbsp
decode
&nbsp
news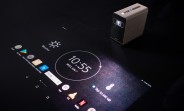 You may have seen Android tablets which have projectors and projectors which come with Android. Forget about all these. Here's a device that can project a touchable Android UI anywhere you go. And that's not all the Sony Xperia Touch is capable of. Join us as we discover what it's all about.
What it is in a nutshell…
The Xperia Touch is an Ultra Short Throw projector, which means it's one of the few elite projectors which can project an image of up to 100 inches in diagonal while sitting at just 38cm (15 inches) distance from the surface they are projecting on.
It's also an Android…