March 14th, 2018 &nbsp
decode
&nbsp
Android 7.1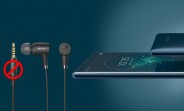 Sony dropped the headphone jack from the Xperia XZ2 and XZ2 Compact. Here's their rational:
Why did you remove the headphone jack on XZ2 and XZ2 Compact?
This is part of the shift to our new Ambient Flow design language. In order to create the beautiful seamless design, our designers needed to remove the headphone jack. Plus, we're aware of the major market trend toward wireless headphones over wired headphones.
Now, we don't mean to sound bitter, but this paints Sony as a trend follower, not a trend setter. To be fair, the HTC U11 and U11+ don't have headphones jack either and…