February 27th, 2018 &nbsp
decode
&nbsp
Android 7.1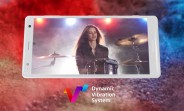 The new Sony Xperia XZ2 features a Dynamic Vibration System – a more powerful, more advanced haptic feedback system that enhances music, movies and games.
The first step, is a much larger vibration motor – check out the size difference, this is the reason the smaller XZ2 Compact lacks this feature.
Next up is software magic – it analyzes sound and activates the vibration in sync. It doesn't just track the base, it also listens to the higher frequencies to determine when vibration will enhance the experience.
Sony's new Dynamic Vibration System is larger and more capable than a…