January 18th, 2018 &nbsp
decode
&nbsp
Android 7.1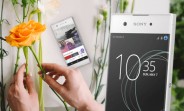 The Guardian interviewed Sony CEO Kaz Hirai, who talked in depth about the company's various divisions, but we found his thoughts on the smartphone segment the most interesting.
First, the good news: Sony Xperia phones are here to stay. Now the bad: phones may not be. Hirai believes the future lies elsewhere but to capture and lead this future market, his company needs to stay in the communication business.
"It's not about the smartphones of today; it's more about looking beyond smartphones – at what are we going to be doing – and to be a player in this space; ideally to be a leader….