February 23rd, 2017 &nbsp
decode
&nbsp
news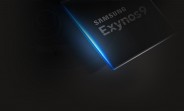 Samsung's Exynos chipset is venturing into 10nm territory with the latest Exynos 9 Series 8895. This chip promises up to 27% higher performance and 40% lower power consumption than a comparable 14nm chip.
The chipset features an octa-core CPU starring second generation custom Samsung cores (four of them) as the big cluster while Cortex-A53 (again, four) reprises its role as the little cluster. The GPU is a Mali-G71, which has it's eye on VR. It should have as much as 20 cores!
Samsung maintains parity with Qualcomm by offering a Gigabit LTE modem – that's 1Gpbs down and 150Mbps up….