July 23rd, 2018 &nbsp
decode
&nbsp
news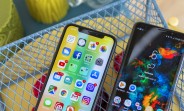 Samsung's anti-iPhone ad series Ingenius just got a few new clips titled Fast Charger, Dongle and Camera – pretty self explanatory.
In these ads Samsung depicts a faux Apple store with an Apple Genius Bar employee that answers iPhone X questions from pro-Galaxy S9/S9+ users.
The first ad was Speed and it focused on the Galaxy S9/S9+'s Gigabit LTE support, granting it double the LTE download speeds.
These three new ads focus on the iPhone X's lack of a headphone jack (which the Galaxies have, naturally), its sub-par (according to DxOMark) camera and its lack of fast charging. At least…