March 12th, 2018 &nbsp
decode
&nbsp
Android 7.1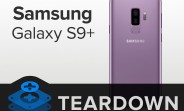 It's the Samsung Galaxy S9+'s time to get the iFixit disassembly treatment and for us to have a good look inside its beautiful glass and metal hull.
The teardown starts off like you'd expect for a waterproof glass and metal phone – with a heatgun, opening pick and a lot of nervous prying.
The battery is glued in place and required Adhesive Remover and a lot of know-how to remove.
The camera is the more interesting component. Being the Galaxy S9+ it's the dual camera with the main variable aperture sensor and the second, tele sensor.
The main camera's aperture is made up of two…