March 28th, 2018 &nbsp
decode
&nbsp
Android 7.1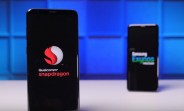 As usual, Samsung has launched not one but two Galaxy S9 versions. Most of the world gets the one with Samsung's own Exynos 9810, while for North America and China the phone is powered by Qualcomm's Snapdragon 845.
If you've been wondering how these two would fare in a classic YouTube speed test, here's your answer.
The video starts off with the launch of a set selection of apps – one by one. As soon as one has fully loaded, the Home button is pressed and then it's on to the next app (or game).
The first "lap" is won by the Snapdragon version, which outdid the Exynos model by…