March 22nd, 2017 &nbsp
decode
&nbsp
news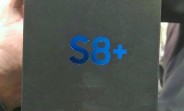 Samsung Galaxy S8+ retail boxes are roaming freely now, apparently, and one Verizon specimen has been photographed front and back. Not unlike last year's flagships, the Galaxy S8+ (and presumably the smaller S8) will come in a black cardboard box, with the model name etched in sparkling blue.
Samsung Galaxy S8+ retail box
More importantly, the box' back details the contents of the retail bundle. You'd be getting a charger and what Samsung calls a 'Micro USB connector' and a 'USB connector'. This is likely the same pair of adapters that the late Note7 had.
Inside the box,…