March 21st, 2017 &nbsp
decode
&nbsp
news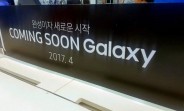 The Samsung Galaxy S8 schedule is clearing up slowly.The official March 29 unveiling is already confirmed and availability across a few markets has now been revealed.
Things should really get interesting come April 7, when the handsets es expected go on pre-order in South Korea. Sources now say that will start shipping these initial early pre-orders as early as April 18.
Considering, the Galaxy S8 is expected to only be available in stores on April 28, this gives a very strong incentive to pre-order.
Source 1 | Source 2 | Via