April 3rd, 2017 &nbsp
decode
&nbsp
news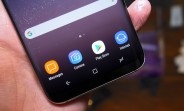 Samsung has been making TouchWiz cleaner and cleaner in the last couple of years and has made the most changes on its Galaxy S premium line.
In another major change the Galaxy S8 and Galaxy S8+ let you hide the app drawer and have all apps on the homescreen.
This isn't anything new – Samsung had the option last year in the Galaxy S7 and S7 Edge but it an experimental feature and was hidden deep under the Samsung Labs app, not in the settings menu.
In the Galaxy S8 duo the app button is ON and you can always bring it back if you've hidden it. Many Android makers are using…