August 21st, 2017 &nbsp
decode
&nbsp
Android 7.1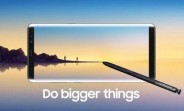 Update: Looks like there was some freebies-related confusion on @evleak's end. As per the update provided by him, buyers will have the option of either going for a 256GB card + wireless charger or 360 cam.
CORRECTION: the options are as follows1. 256GB card + wireless charger2. 360 camSorry for the confusion. https://t.co/Db42n4kVCf— Evan Blass () August 19, 2017
The leakster also revealed that for buyers in Europe, DeX dock will be the freebie.
(The pre-order gift in Europe is a DeX dock.) https://t.co/Db42n43kKH— Evan Blass () August 18, 2017
Original…