August 23rd, 2017 &nbsp
decode
&nbsp
Android 7.1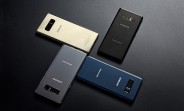 The Samsung Galaxy Note8 is official, now it's time to talk money. The rollout will be simultaneous worldwide – pre-orders start at midnight, sales kick off on September 15.
Different colors will be available in different regions – most regions get a choice between two versions initially. Those that pre-order or buy a Galaxy Note8 by September 24, you're in for some extra goodies (but again, what you get is region-dependent).
Note that these are for SIM-free devices. We have info on US carrier plans below that.
Where
Price
Colors
Early owner bonus
…