April 22nd, 2017 &nbsp
decode
&nbsp
news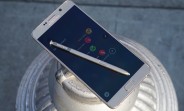 If you are a Samsung fan in the US and are planning to purchase a flagship smartphone (but not necessarily a latest one), here's a deal for you: the Galaxy Note5 is currently going for under $300 ($299.99 to be precise).
Specifically, eBay seller quickshipelectronics is offering the black-colored AT&T variant at that rate. The official price of the phone is $740, while third-party retailers like Amazon have it listed for $400. So, the deal saves you at-least $100.
Head to the Source link below for more information.
Source | Via