October 19th, 2017 &nbsp
decode
&nbsp
Android 7.1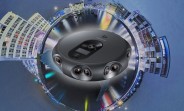 After years of development, the Samsung 360 Round is official. This a 360° camera that can stream VR content in a more professional setting, unlike the Gear 360.
For one, it has a total of 17 cameras organized in 8 pairs plus one on the top. This allows it to stream immersive 4K 360° videos in 3D (something the Gear camera cannot do).
If you've tried watching 360° video from a consumer camera, you'll likely have noticed that it's in 2D, which spoils the illusion. It takes pairs of cameras to create a 3D image with depth.
High quality audio is supported out of the box with 6 internal…