November 13th, 2017 &nbsp
decode
&nbsp
news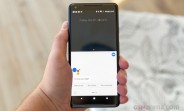 Some Google Pixel 2 XL users are reporting an issue with their touchscreen not responding to touches around the edges. Several users have complained on Google's official forum and some have even documented it in a video.
It seems the phone is ignoring inputs right at the side edges to prevent accidental touches but is doing so quite aggressively, to the point where even intentional touches are now being ignored.
Google has taken a note of the issue and has confirmed on its forum that it is looking into it and will be addressing it in a future OTA update.
The smaller Pixel 2…