July 14th, 2018 &nbsp
decode
&nbsp
news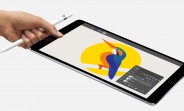 Adobe, in a shift of strategy, is to launch a full version of Photoshop for the iPad, according to a Bloomberg report.
Adobe's chief product officer of Creative Cloud, Scott Belsky, in a recent interview stated:
My aspiration is to get these on the market as soon as possible. There's a lot required to take a product as sophisticated and powerful as Photoshop and make that work on a modern device like the iPad. We need to bring our products into this cloud-first collaborative era.
Adobe currently has Photoshop Express available on iPad. The new 'full-fat' version will allow you to…