March 1st, 2018 &nbsp
decode
&nbsp
Android 7.1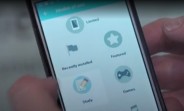 So you also think your child is addicted to their smartphone, or fear that might happen when you get them one, here's something for you: a Spanish company by the name of Escudo Web has developed a smartphone specifically aimed at kids.
Dubbed PhoneKid, the device lets parents control it through an app. So they can do things like decide which apps their kid has access to (by enabling different modes) and even block and replace the handset's home screen with an activity command.
As for other features, the device can never be turned off, and the same goes for Geolocalisation as well….