November 9th, 2017 &nbsp
decode
&nbsp
news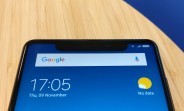 So, the Xiaomi Mi Mix 2s from yesterday is most likely a fake – a fake made with the XOutOf10 app, which allows common Android users experience the notch life that iPhone X owners live. Here, we took a couple of shots of the Mi Mix 2 we have in the office with the app running:
Xiaomi Mi Mix 2 with a faux screen notch
Now, certain Android makers were quick to abandon the 3.5mm headphone jack once rumors started circling that Apple will do just that. So we have little doubt that eventually someone, maybe not Xiaomi but someone, will make a phone with a notch.