April 2nd, 2018 &nbsp
decode
&nbsp
news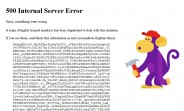 Many folks are tweeting that they are unable to see any YouTuber's channel pages, only to be met with an internal error 500.
Wowww I can't go into any channel on YouTube #youtubeisbroken— Raichu () April 2, 2018
We just tried to open 10 channels from videos in our YouTube feed and all of them return the same error "500 Internal Service Error". Surprisingly, MKBHD's channel is seemingly the only one visible and working just fine. Even Casey Neistat's channel is returning the same error.
Edit [16:30 ET]: MKBHD's Channel is down again but Casey Neistat's is back. It…