February 16th, 2018 &nbsp
decode
&nbsp
Android 7.1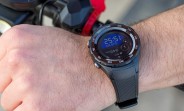 If you are a Huawei Watch 2 owner (in non-US/UK region) who uses their watch to make payments through Android Pay, you might want to avoid the Oreo update (if not installed already).
Over at Reddit, a lot of users are confirming that the update has disabled the Android Pay feature for them.
Google is saying Android Pay for Wear was never available for regions outside of the US and UK (their official documentation also says that), but the fact of the matter is the feature was working perfectly fine on Nougat, and people were using it.
Manually enabling Android Pay by searching for…