October 30th, 2018 &nbsp
decode
&nbsp
news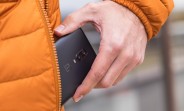 The OnePlus 6T was announced yesterday but it will go on sale in a manner of days around the globe.
This is OnePlus' biggest launch ever, bringing in T-Mobile and Verizon in the US as well as all major carriers and retailers in the UK as partners. So when will the new 6T become available in stores and how much are you going to pay.
The when is November 1 in the States and India and November 6 in Europe.
OnePlus impressed us when it came to price. The base model costs a few bucks more than its predecessor but it comes with double the storage at 128GB. Here's an easy to read…