May 17th, 2018 &nbsp
decode
&nbsp
Android 7.1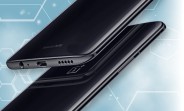 The OnePlus 6 is already cropping up across Europe. It's available on OnePlus.com, of course, but if you don't want to use the official site for some reason, you can go through local retailers too.
In the Netherlands, belsimpel.nl has all versions starting with the 64 GB model for €520. There's even the limited edition Silk White model, though that will ship later (June 5).
In Germany, there's proshop.de. Only the Mirror and Midnight Black models are available, not the White one. And when we say "available" we mean that you can pre-order them, with shipping starting on May 22.
In…