November 1st, 2017 &nbsp
decode
&nbsp
news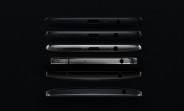 The OnePlus 5T will have a 3.5mm headphone jack, just like its predecessors.
This was confirmed in OnePlus' latest teaser, which has all OnePlus smartphones laid out with headphone jacks front and center.
What do our phones have in common? 🎵 pic.twitter.com/sd9PcSdptw— OnePlus () November 1, 2017
OnePlus started teasing the 5T only recently, showing part of its design, a sample photo taken with its new 20MP+20MP camera and recently hyping up its Portrait Mode.
We expect more teasers to follow leading up to the November 16 announcement.